1998 NJ State PBA Unit Citation Award Winner
On October 28, 1997 Morris County Correction Officers as part of the Sheriff's Emergency Response Team (S.E.R.T.), were called out to extract a perpetrator who had barricaded himself in a room after having stabbed one or more individuals with a butcher knife.

With disregard to their own safety, the officers entered the room where they were stabbed at by the volatile perpetrator. The perpetrator was sprayed with OC Spray which had no affect on him. When the perpetrator continued to attack the officers he was shot 5 times with rubber shot gun rounds, and once the shot gun was empty was struck with the shotgun which forced him to drop his weapon, and was immediately subdued and handcuffed.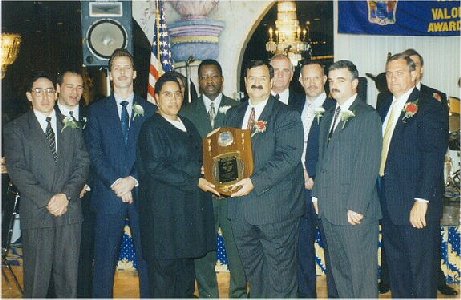 Our Address
MORRIS COUNTY CORRECTIONS OFFICERS
PBA Local #298
PO Box 510
Morristown, NJ O7960


Online Contact Info
hruiz_nj@hotmail.com
Website
www.pba298.freeservers.com